Un'Altra Terra
Players


Leonhardt
Fighter
Human Dhampyr
2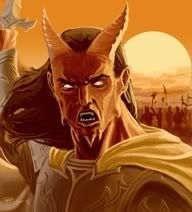 Stovial
Warlord
Tiefling
2





Dar
Ranger Beastmaster
Half-Orc
2

Artizahn
Wizard
Eladrin
2



Dungeon Master's Favor
Level 0 Utility
Encounter
♦
Automatic
Immediate Reaction
♦
Personal
Prerequisite:
Whenever a player describes a good roll in an epic or entertaining way.
Roll 1d6:
On a 5 or 6 the player can choose to either regain an Action Point (unless they have the maximum amount) or get an automatic 10 on a roll during this encounter.
"The One Ring"
Magic Item
A simple silver ring with gnomish writings.
At-Will
♦
Ring
Minor Action
♦
Personal